Jasper County
Association for Home and Community Education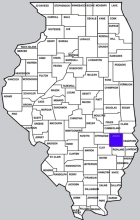 About Us:
Established on April 24, 1945, Jasper County HCE (formerly called Home Bureau, Home Extension and Homemaker's Extension Association) is an independent, not-for-profit organization which supports the Clay/Effingham/Fayette/Jasper - University of Illinois Extension Unit.

From 1939 until April 1945, women from Jasper County originally were members of Effingham County Home Bureau; however, as more women became interested in joining, Jasper County made plans to form their own organization.

Our first Executive Board Members (1945) were Vera Hetzer, Dorothy May, Rose Apple, Nita Heady, Lela Ochs, Bernie Zuber and Lucy Trimble. In the early years, our HCE Board Members met in the Jasper County Farm Bureau on the square in downtown Newton, Illinois, and later at the newly built Farm Bureau west of Newton on South Hutton Drive.

These ladies worked very hard to pave the way for us all through the years to provide educational lessons and programs, service projects and social activities to enhance the lives of members and all in the community.

Today, our JCHCE Board meets monthly in the Sunrise Community Center in Newton, Illinois. We continue to carry on the spirit of home and community education in our county that began many years ago.
Contact:
Judy Millsap, millsaps@psbnewton.com (618) 455-3584
2017 - 2018 Jasper County HCE Board Members:
President
Judy Millsap
1st & 2nd Vice President
Kathy Yager
Secretary/Public Information
Donna Richards
Treasurer
Marge Thompson
4-H, Family & Community
Connie Elliott
International &
Cultural Enrichment
Rose Michl
HCE Board Meetings:
2nd Monday of each month a 4:00P.M., at the Sunrise Community Center, Newton Illinois
Upcoming Lessons for 2017 - 2018 Year:
September
Know Your Numbers & God's Pharmacy
October
Greek Cooking
November
History of the American Flag & Flag Etiquette
December
Christmas Parties
January
Soups & Stews
February
The Underground Railroad
March
Scams (Police Presentation)
March 5, 2018 - Countywide Meeting @ 6:30pm at the Sunrise Community Center, Newton, Illinois
April
Healthy Spices/Teas for Health
May
Genealogy - How to Research Your Family Tree
June
Unit's Choice
Service Projects:
●
Books 4 Beginners ... We purchase a book for each kindergarten in Jasper County.
HCE Board members visit each class during HCE Week in March and read the book to the students. Then, each kindergartener is presented with his/her own book to take home. In 2016, 115 kindergarteners received a book.
●
Toys For Kids ... We purchase Christmas gifts for children (age birth to age 13) who qualify so that they may have gifts under their tree at Christmas time. In 2016, 209 children received gifts (91 families) to brighten their holidays.
●
$500.00 Scholarship to the child/grandchild of a member of Jasper County HCE.
The student with the highest GPA wins.
Fundraisers:
| | | |
| --- | --- | --- |
| | July | We partner with the Fraternal Order of the Eagles to sell pork burgers, bratwurst and hot dogs. Proceeds go to our Toys for Kids project. |
| | September | We host a Painting/Craft Party open to the public with the proceeds benefiting our Toys for Kids project. |
| | October | We partner with The Hill to serve pulled pork sandwiches featuring special Kansas City and Texas BBQ sauces. Free will donations go to our Toys for Kids project and we sell Butter Braids to everyone in our community with proceeds going toward either out Toys for Kids, or Books 4 Beginners projects. |
| | November | We sell RADA Cutlery to the public with proceeds going to our general fund...to be used for a $500 scholarship for a graduating senior from Newton Community High School who meet our qualifications and have the highest grade point average, or for our Books 4 Beginners project. |
Jasper County Units and Meeting Information:
Monday Morning
(7 members)
Meets 1st Monday of each month, 10:30 A.M. at the Villas of Holly Brook in Newton, Illinois
Smallwood
(12 members)
Meets the 1st Thursday of each month, 11:00 A.M. at the Senior Citizen's Center in Newton, Illinois
Sainte Marie Night
(16 members)
Meets the 1st Tuesday of each month at 7:00 P.M. in member's homes. If the lesson is on food and a meal is planned, we meet at 6:30pm.
Mailbox Members
(10 members)
Annual Meeting of Jasper County HCE:
The 4th Monday in April ... at Parklanes Banquet Room in Newton, Illinois
Annual Membership Dues: $15.00
Everyone (women and men) is welcome to join a unit or join as a Mailbox Member,
allowing members to receive a monthly newsletter and attend all the educational
programs.
Our Mission Statement:
Jasper County HCE enhances the lives of individuals and families through educational
programs and experiences that encourage responsible leadership and service to the
community.