Newsletters
IAHCE NEWS / Discover what's going on around you!
The Chronicle is FREE to download and read, or print out on your computer. For HOME delivery, fill out our ORDER FORM or put your name, address, county, and IAHCE District on paper. Specify NEW or RENEWAL order. Send order form along with a check payable to IAHCE to the address provided below. If you can't wait, CLICK on the NEWSLETTER below to download on your computer now. See below.
Emily McDowell
IAHCE Public Relations Director
PO 522 Pierron, IL 62273
Print
ORDER FORM (optional)
1 Year (3 issues) is only $15.00 - Published in MAY (articles due by April 1)
AUGUST (articles due by July 1) and DECEMBER (articles due by November 1)
Download current or past newsletters by clicking on any of the links below. They open automatically after a period of time depending on your Internet service providers speed and the newsletters file size. Please have patience.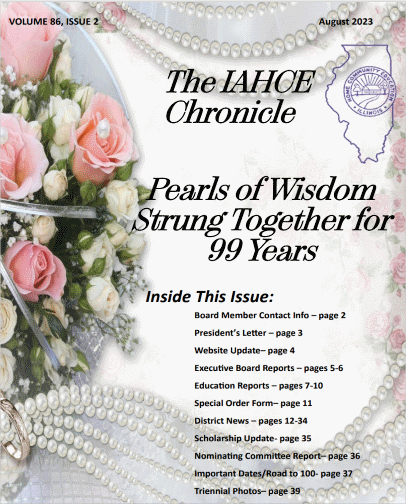 Pearls of Wisdom Strung Together
Change is to Grow - Grow is to Become
Power of the Past - Beacon to the Future
Celebrating Around The World with IAHCE
Celebration At The Crossroads
All newsletters are in Adobe PDF format. Newsletters may be saved, viewed or printed after downloading to your computer.