Rock Island County
Association for Home and Community Education
About Us:
Rock Island HCE is made up of 9 units. Listed below are some
upcoming programs and information about our units.
Upcoming Programs:
| | |
| --- | --- |
| | Programs for September 2014 through May 2015 will cover: |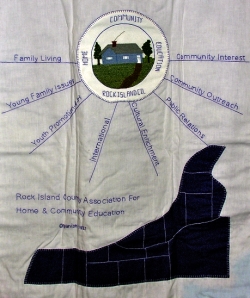 Digestive Health: How to Keep Things Moving and
Have a Happy Tummy
Creating Easy, Healthy Beginnings (appetizers)
Diet Detective/Choosing Reliable Nutrition Information
Germany and Holiday Traditions
Winter and Spring Care for the Home Landscapes
The ABC's of GMO's
Cooking with Fresh Garden Vegetables
Mindfulness and Soul Care
Health Insurance for People 65+ Years
Isabel Bloom Tour
Painting a Mini-Barnboard
Bus Trip to White Pines Dinner Theater in Mt. Morris, Il
Spring Fling Craft Day
Units in Rock Island County:
Everyone is welcome to attend our Unit meetings.
Please call Joan at (309)793-4675 or Pat at (309)654-2576 for more details.
Blackhawk Unit
9:00 am,
2nd Wednesday, Stern Beverage Meeting Room, Milan
Busy Bee Unit
10:30 am,
1st Thursday, the Extension Office, Milan
Butterworth Unit
10:30 am,
or 12:00 pm, 2nd Wednesday, Butterworth Center, Moline
Cordova Unit
1:00 pm,
3rd Thursday, Cordova Library
Prospect Park Unit
7:00 pm,
3rd Tuesday, Members' homes in Quad Cities Area
Riverdale Unit
7:00 pm,
1st Monday, "members' homes" in: upper RI Co. IL
& Scott Co. IA
Rockridge Unit
6:00 pm,
2nd Thursday, United Methodist Church in
Taylor Ridge (lower Rock Island County)
Town & Country Unit
6:00 pm,
4th Thursday, Dinner followed by Meeting,
Christ Church, Moline
Zuma Unit
1:00 pm,
2nd Thursday, Members' homes in Upper RI County